History of KVSB
Since our inception in 1913, the Kaw Valley State Bank & Trust Company has been the "Bank of Personal Service" for the Wamego area. We were pleased to merge with the First National Bank of Clifton in 2008. Situated on the county line between Washington and Clay counties, our Clifton location was chartered in 1878 and branched to St Marys in 1990. The Kaw Valley State Bank & Trust Company is still locally owned, with all decisions made to the benefit of our local county patrons.
We have embraced 21st century technology, while maintaining old-fashioned, personal service. We continue to offer an ever-expanding variety of products that make it possible for friends scattered all over the country to maintain ties with their hometown.
The Kaw Valley State Bank & Trust Company is a member of the Federal Reserve Bank, the Federal Deposit Insurance Corporation, the American Bankers Association, the Independent Bankers of America, the Kansas Bankers Association, the Community Bankers Association, and an Equal Housing Lender.
---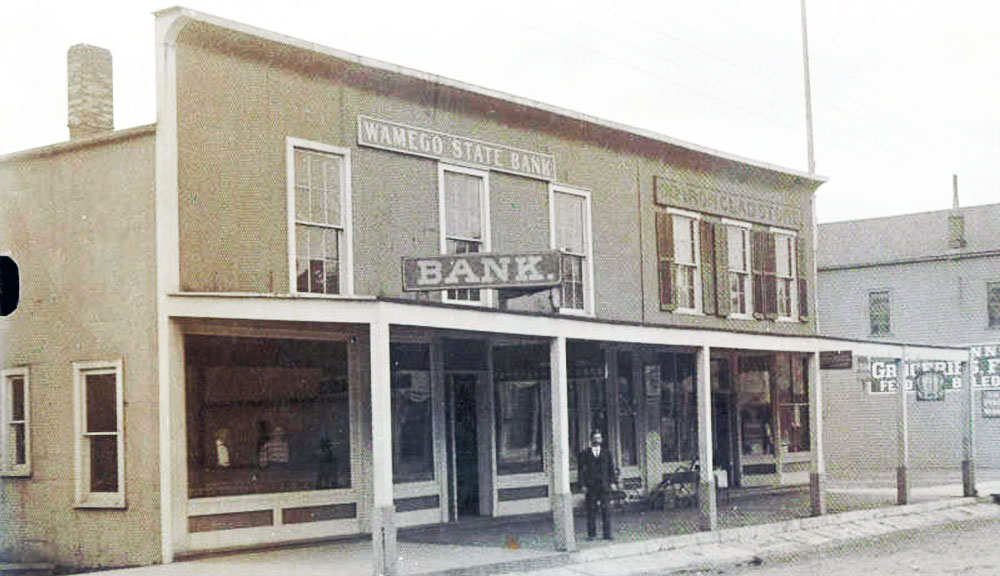 March 5, 1913

Kaw Valley State and Savings Bank chartered

1913

A.T. Palmer elected president

June 2, 1913

Kaw Valley State Bank and Savings Bank opens its doors

January 10, 1922

D. N. Biddinger elected President

February 27, 1924

Purchased Farmers State Building at 431 Lincoln. The building cost $5750.

April 15, 1927

Dr. Ben Brunner elected president

October 25, 1929

Wamego State Bank merges with Kaw Valley State and Savings Bank

August 25, 1932

Kaw Valley State and Savings helps to liquidate Farmers State Bank of Belvue

January 11, 1947

Adolph Soelter elected president

February 3, 1957

Louis Leach Parsons retires and sells his interest in Kaw Valley State and Savings Bank

October 11, 1962

Bank changes its name to Kaw Valley State Bank

April 12, 1966

Frank Meek elected president

April 12, 1972

Kaw Valley State Bank purchases building at 429 Lincoln

August 1, 1973

Kaw Valley State Bank granted trust powers

January 1, 1974

New Expanded building opens at 431 Lincoln

1976

Andy the automatic teller debuted

January 18, 1977

Glenn Swogger elected president

January 23, 1980

Ben Meek elected president

October 29, 1980

Home Mortgage Department created

September, 1986

The bank converts to an in-house computer system.

1986

Annual calendar photo contest begins

January 24, 1990

Ed Martin elected president

October 26, 1999

Broke ground at new location – 1015 Kaw Valley Park Circle

April 9, 2001

Open doors at new location

March 31, 2004

Ed Martin purchases controlling interest in Kaw Valley State Bank and Trust

September 5, 2008

Kaw Valley State Bank and Trust Co. merges with First National Bank of Clifton / St. Marys

January 20, 2012

Lanny Bosse elected president
---